Toxic algae warnings near Loughbrickland play park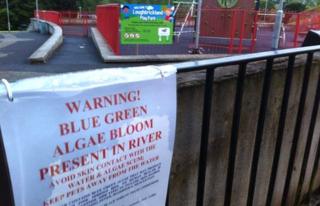 Signs warning of the presence of toxic algae close to a play park have been erected in a village in County Down.
The algae has bloomed in Loughbrickland lake, which has been closed to anglers due to concerns for public safety.
The lake feeds a small river that flows past the nearby park. The signs warn the algae may produce toxins that pose a "serious risk to human health".
However, the local council has told the BBC the risk is low and the signs were very much a "precautionary move".
Loughbrickland lake has now been polluted with thick algae for three summers in a row.
Gillian Topping, head of environment health at Banbridge District Council, said they had erected the signs as a precaution, after staff from the Northern Ireland Environment Agency detected the algae bloom in water samples taken from lake.
Ms Topping said the council has also erected signs at public access points at the lake, which is popular with anglers.
She said there was a chance the toxic bloom could pose a low risk to health if members of the public were to come in skin contact with the water or eat fish caught in the lake.
The warning signs also instruct pet owners to keep their animals away from the water.
Ms Topping added that the algae problem had been exacerbated by the recent spell of warm weather, and said she expected that the signs would come down shortly.
The lake, situated off the main A1 Belfast to Dublin road, is regularly stocked with fish by Stomont's Department of Culture and Leisure (DCAL).
In July 2011, DCAL was criticised for restocking the waterway with 500 trout while the lake was polluted with thick algae. Many of the fish died as a result.
Last summer, DCAL closed the lake for a short period on advice from environmental health officers, due to public safety concerns over the toxic algae.
In a statement to the BBC on Thursday, a DCAL spokeswoman said: "Algal blooms are a natural phenomenon caused by the very warm weather and high levels of nutrients in the lakes.
"The department has taken advice from environmental health officers, who indicate that the toxins produced pose a risk to human health if contacted or ingested.
"People should avoid contact with the water and algae and as the toxins may accumulate in fish, no fish from these waters should be consumed until further notice. Possible side-effects include skin rashes, eye irritation, vomiting, fever, diarrhoea and muscle pain."
The DCAL spokeswoman added that the algae blooms were expected to decline as the weather changes.
"The department is seeking further guidance on how long the toxins may remain in fish and this will be a factor in the decision to re-open the fisheries," she added.