Court is shown footage of pensioner's murder scene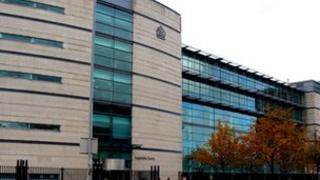 A court has been shown harrowing images of a police video taken at the scene of a pensioner's murder 25 years ago.
Margaret Telford, 68, was found strangled in her home at Twaddell Avenue, Belfast, on 4 February 1988.
Samuel Dunwoody, 52, originally from north Belfast but with an address in Birmingham, denies her murder.
When footage of the murder scene was played to the court the defendant lowered his head and did not lift his eyes until the DVD had ended.
Mrs Telford had died between 2 and 4 February and had sustained a series of injuries consistent with her attacker having assaulted her about the face, neck and chest, and an injury to the back of her head caused by her falling after being struck.
The attack had left bruises along her jawline and neck and a chest fracture, and the conclusion of the then state pathologist, Prof Thomas Marshall, was that the death had been caused by strangulation.
The prosecution said Belfast Crown Court would also hear evidence from the current state pathologist, Prof Jack Crane, that death could also have been exacerbated or caused by Mrs Telford possibly having internal chest haemorrhaging that worsened her condition, though Prof Marshall had restated his belief "strangulation had been the principal cause of death".
Ransacked
The jury was told that the prosecution case was that Mr Dunwoody was on prison parole at the time when he called to Mrs Telford's house.
The fatal assault happened, claimed the prosecution, after she caught him searching for money and he hit her a blow, causing her to fall and hit her head before jumping or leaning on her prone body and using a ligature to strangle her.
His motivation, he told the jury, was that "he did this to stop her calling the police".
An officer who attended the scene told the court Mrs Telford was lying in the front hall with the contents of the back living room cupboards, kitchen, understairs cupboard and upstairs bedroom ransacked.
The case was reopened in 2011 after a Police Service of Northern Ireland (PSNI) serious crime review team 'scoping exercise' threw up fresh forensic evidence that led to officers travelling to Birmingham to arrest Dunwoody at his home in the Aston area of the city.
Hugged
In a number of interviews Mr Dunwoody insisted he had known Mrs Telford as a friend, had called regularly at her home, and had last been there on 22 December 1987, while on temporary release from prison.
Mr Dunwoody also told police she made him tea and had hugged him as he left her house, and that he had been in prison when Mrs Telford had been killed.
The prosecution said it would show that police had then put to Mr Dunwoody that he could not have visited with Mrs Telford because she had been in Denmark visiting her son on that date, and that on the dates in question he had not been in prison but was on prison release in Belfast.
Mr Dunwoody had sought a further interview with police a week later at which he said he had been at the house in February to ask Mrs Telford for money, but as she was coming down the stairs she fell and injured herself.
He told police he had "tried to give her the kiss of life" but had not been able to revive her.
The prosecution said: "This is the lying account of a man backed into a corner."
The trial continues.