Giant's Causeway centre and The Mac win top architectural awards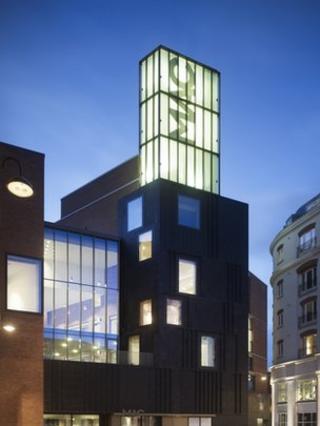 Two new buildings in Northern Ireland have won top architectural awards.
They are the Giant's Causeway Visitors Centre in County Antrim, and The Mac arts centre in Belfast city centre.
The buildings have been recognised for their architectural excellence with a National Award by the Royal Institute of British Architects (RIBA).
They are now eligible for a shortlist for the RIBA Stirling Prize, for the best building of 2013.
Three other buildings have won NIBA Ulster Awards - Church of the Most Holy Redeemer at Clonard in Belfast, a private house renovation in the Rosetta area of Belfast, and an office extension in Lisburn, County Antrim.
RIBA president Angela Brady said: "The RIBA Awards set the standard for great architecture in the UK, so it is wonderful to see two national and five regional award winners in the Ulster region.
"These are projects that represent architectural excellence on a national level, projects that go beyond the brief and exceed the client's expectations.
"Investing in good design for our towns and communities is vital. Even in hard times we must continue to create vibrant and inspiring buildings and places for future generations to use and enjoy."
The Giant's Causeway Visitors Centre cost £18.5m and was opened by First Minister Peter Robinson and Deputy First Minister Martin McGuinness in July last year.
The £18m Mac centre opened in Belfast's Cathedral Quarter in April 2012. It contains two theatres, three art galleries, a dance studio, rehearsal space and a cafe-bar.