Hospital burglars jailed for 'extremely mean' robberies on patients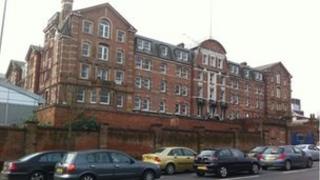 Two men have been jailed for robbing three hospital patients, including one who was heavily sedated.
Judge Gordon Kerr sentenced Gareth Cotter, 23, to three years and his accomplice Gerard Madden, 22, to two and a half years.
Judge Kerr said the thefts had been "extremely mean" and could not be tolerated.
The thefts took place at the Royal Victoria Hospital in October last year.
"People who go to hospital are vulnerable and they are entitled to the protection that the courts can give them," said Judge Kerr.
Search
Cotter, from the Glenalina Road, Belfast, and Madden, from Aspen Park in Dunmurry, had each pleaded guilty to three counts of burglary in side rooms on ward 5A in the hospital.
The court heard that in the early hours of that morning Audrey Wallace, an elderly patient, was wakened from her sleep by a man standing beside her bed drinking from a bottle and realised that her mobile phone was missing from her bedside locker.
She challenged the pair and they handed her phone back before walking out through the ward door, but a nurse alerted security personnel who stopped the thieves on the fourth floor where the theatres are.
Asked to account for themselves, they told guards they were out for a "dander" but inquiries and a search revealed two other patients had had belongings stolen from their rooms as well.
They had stolen a watch, mobile phone and head phones belonging to senior UTV journalist Ken Reid, who was described as being "heavily sedated" at the time of the theft, as well as a mobile phone and handbag belonging to Christina Hayes.
'Mean-spirited'
The lawyer said that all of the stolen property was returned to their rightful owners but that Mrs Wallace had been left particularly traumatised by the incident.
The court heard that both men had previous convictions and revealed that Cotter had only been released from prison four days before while Madden was in court the very next day for drugs offences.
Lawyers for the pair conceded the thefts were "mean-spirited" but that each man had expressed deep-felt, genuine remorse and wanted to express their apologies to their victims.
Ordering Madden to serve nine months in jail and Cotter a year, with the rest of their sentences to be spent on supervised licence conditions, Judge Kerr said they both had their issues to tackle and that he hoped they would address their problems.