Memorial service held in Coleraine to mark 40th anniversary of car bomb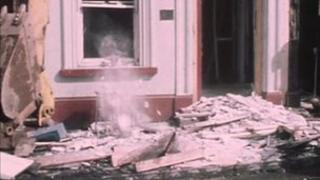 A remembrance service has been held in Coleraine, County Londonderry, to mark 40 years since a double car bombing in the town.
Six civilians all aged over 60, all Protestant, were killed, 33 other people were injured in the attack by the Provisional IRA.
All of those injured or killed were caught up in the first explosion, which went off on Railway Road at 15:00 BST.
A few minutes later another car bomb went off in Hanover Place.
There was a warning about that bomb and no-one was injured.
'Shock of what I saw'
David Gilmour was 10 years old at the time and he was sitting in a car across the street when the first device exploded.
"I was aware of a car passing and just as the car passed us there was a large explosion and shortly after that we realised there had been a bomb explosion and regrettably the car that went past us took the full brunt of the blast," he said.
Those who tried to help that day say they will never forget. David Barbour was on duty as an ambulance driver.
"Black smoke, dust, debris, parts of cars, broken glass, fallen masonry, bodies lying here and there, it was quite a horrific scene and the shock of what I saw that day I will never forget," he said.
Forty years on people gathered at Coleraine's war memorial to remember the dead and injured.
A minute's silence was observed and wreaths were laid.
Memorial
It is the first time a civic service has been held to mark the June 1973 bombings.
Coleraine Mayor David Harding said: "It was a very dark and difficult day for this town and we share that dark and difficult time with many other communities in Northern Ireland.
"I think we all felt that it was appropriate to mark the passing of time and 40 years is a generation.
"We shouldn't forget this history because those who forget their history are condemned to repeat it."
No permanent memorial exists to mark the bombings, no list of names, but few attending the service will forget the day the troubles came to Coleraine.