All Stormont MLAs take pay rise except SDLP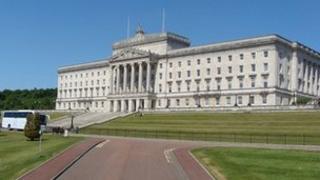 Thirteen SDLP representatives have refused a £5,000 increase in their MLA salaries, becoming the only party that did not accept the money.
All other Stormont MLAs who are not MPs have accepted the rise, saying they needed it to cover a shortfall in office funding.
The 11% pay rise was recommended by an independent panel in March and took effect in April.
The extra money brings MLAs' basic annual pay to £48,000.All MLAs take pay rise except SDLP
The salary rise was financed by a cut in their office funding.
'Completely unjustifiable'
Details of the individual MLAs who declined their pay rise were revealed following a freedom of information request from BBC Radio Ulster's Nolan Show.
The SDLP has 14 MLAs at Stormont, but its party leader, Alasdair McDonnell, does not receive a salary from the Northern Ireland Assembly because he is also a Westminster MP.
SDLP MLA Mark H Durkan told the Nolan Show: "Actions speak louder than words and we have all refused to take it.
"In this undoubted time of austerity where you have people in work facing pay freezes, pay cuts and pay-offs and then people out of work, and with disabilities, facing cuts to their benefits, it's completely unjustifiable, in my opinion, for elected representatives to take a pay rise."
Mr Durkan said the independent panel that recommended the pay increase was "not only unaware of the public mood but also completely oblivious to the public need".
'Logical decision'
Sinn Fein's Raymond McCartney told the Nolan Show: "Our party, when we made the presentation to the independent panel, said that we didn't believe there should be an increase in the MLA salary, but we also argued that there should not be any decrease in our office cost allowance.
"They came up with the formula that our salaries would be increased by £5,000 and our office cost allowance would be also reduced by £5,000, so for us it was a very logical decision.
"We took a decision to protect our constituency service, which we take great pride in, and therefore we said yes, we would take the salary and, as we have always done in the past, that would be contributed to the party to provide the constituency service," the Sinn Fein said.
The DUP's Gregory Campbell, who is both an MLA and an MP, does not receive a Stormont salary but said: "When you have an independent body that looks at these things, either you accept or you don't accept what the outcome is, in terms of their investigation and the production that they have of the analysis of what people are worth."
"Each individual MLA has a decision to make about what they want to do with their pay," Mr Campbell added, saying people had the option to decline the increase if they wished.
MLA poverty
The DUP MLA added that the independent salary review panel was set up to take the matter out of the hands of politicians.
"If you have an independent body, let them get on with it, let them make their recommendation and then you have to live with it. That's the way I think it should be done," Mr Campbell added.
In January, the SDLP leader apologised for causing offence by arguing that MLAs were entitled to more generous pension provisions and a small salary increase.
He said a more generous scheme was needed to ensure retired politicians did not end up in poverty
His comments were criticised by his own party members, including his deputy Dolores Kelly.