Loreto grammar reverses shared campus decision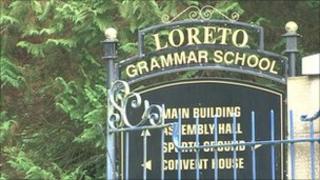 A school in Omagh, County Tyrone, has reversed its stance on a shared campus at a former army barracks.
Loreto Grammar was so strongly opposed to moving to the site, it took a judicial review against the Department of Education.
It was promised a new-build in 2004 but proposals were later made for a shared campus at the site of the former Lisanelly barracks.
The five other schools said they agreed in principle to join the scheme.
The chairman of Loreto's board of governors said the school has now signed a memorandum of agreement.
The school says it is a change of policy on holding out for a promised new school on its own site.
After talks with trustees, the board of governors and the department of education the school has now become convinced Lisanelly is the way forward.
However they have asked the department for £1m to do remedial work to the old school in the meantime.
Loreto Grammar's announcement has been welcomed by the minister for education who described it as a significant milestone.