UVF supergrass trial brothers not to be returned to jail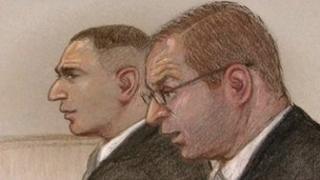 Two brothers who received a reduced prison sentence for giving evidence in a UVF murder trial will not be sent back to jail, in spite of lying in court.
Convicted killers Robert and Ian Stewart became so-called supergrasses at the trial of alleged members of the north Belfast UVF.
The men were found not guilty of murder.
The trial judge said the brothers had lied in part of their evidence.
This raised the question of whether the Stewarts should be sent back to court for breaching the terms of an agreement that allowed them a reduced sentence, three years instead of 22, for the murder of Tommy English in October 2000.
Key evidence
However the Public Prosecution Service has concluded that although they had lied in court, this was not the main reason why the accused were found not guilty.
Therefore, the brothers will not be sent back to court to face a possible return to jail.
The case was the first so-called supergrass trial in Northern Ireland for more than 25 years.
It relied on the evidence of the brothers and was one of the longest and, at more than £10m, the most expensive ever held in Northern Ireland.
Nine men involved in the trial were acquitted of the murder of UDA leader Tommy English.
They included the alleged former UVF leader in north Belfast Mark Haddock.
Thirteen men had been charged with more than 30 offences including the murder of rival loyalist Mr English, kidnapping, and UVF membership.
Twelve out of the 13 were acquitted of all charges. Neil Pollock was convicted of possessing items intended for terrorism and was jailed for five years.