Hilco Capital buys Xtra-vision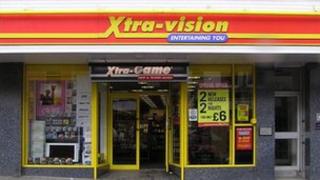 Film rental chain Xtra-vision has been sold to Hilco Capital Ireland for an undisclosed sum.
Hilco recently bought HMV in Ireland and Britain and will now take control of Xtra-vision's business, stock and head office in Tallaght, Dublin.
Xtra-vision entered receivership in April.
Paul McGowan, CEO of Hilco Capital, said the retailer was "a very strong brand in the Irish market", while also being "a good fit alongside HMV".
Xtra-vision will now become part of the firm's international entertainment retail division.
The company currently employs 803 staff on the island of Ireland in 130 stores.
About a quarter of its employees are in Northern Ireland.
The new owner of Xtra-vision will hold discussions about renegotiating leases for stores with landlords.