Lord Ballyedmond to settle right of way dispute in court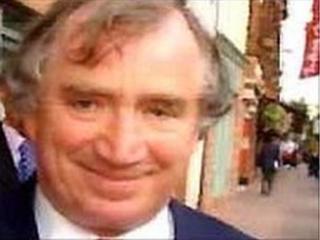 Lord Ballyedmond is to go to court next year to settle a dispute over right of way on his land.
Proposals aimed at resolving the disagreement between the industrialist and Newry and Mourne District Council have been rejected.
The dispute centres on whether a laneway on Lord Ballyedmond's estate, beside Killowen beach in County Down, is a public right of way.
A High Court judge agreed to list the case for hearing next February.
The trial is set to last for almost two weeks.
Lord Ballyedmond, also known as Dr Edward Haughey, is head of leading veterinary pharmaceuticals company Norbrook Laboratories, and is thought to be Northern Ireland's richest man.
As part of ongoing legal proceedings he has already secured an injunction preventing access to the laneway.
It was granted after concerns were raised about any alleged trespassers coming close to sensitive research facilities.
A potential breakthrough in the dispute emerged earlier this year following negotiations over a possible re-routing.
Presentations
Proposals made on a without prejudice basis were then put before the council for consideration last month.
But the High Court was told on Monday that they failed to be endorsed by the local authority.
A solicitor for the council said: "Unfortunately the council has decided that the proposals put forward aren't acceptable to the council for a range of reasons.
"That decision was taken after a full meeting of the council in which they received detailed presentations about the merits and disadvantages of the proposals.
"In those circumstances I have been asked to request a trial date for this matter."
A solicitor for Lord Ballyedmond said his client was "more than disappointed" with the council's decision.
He added: "For a number of years a great deal of money and time has been spent on producing voluminous reports, to find at this point that's not going to bear fruit.
"We have written asking for some detail as to what the problem is."