David Gerard McCloskey remanded over Londonderry 'hit and run'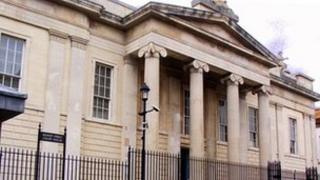 A 23-year-old man has appeared at Londonderry Magistrates Court charged over a hit-and-run collision in which a young girl was seriously injured.
The seven-year-old girl was knocked down by a motorbike at Creggan Heights in the city on Friday evening.
David Gerard McCloskey, from Creggan Heights, was charged with causing grievous bodily injury to the girl by driving a motorcycle dangerously.
There was no bail application and he was remanded in custody until 4 July.
He was also charged with failing to stop at the scene of an accident, failing to report an accident and failing to retain a vehicle at the scene of an accident.
Mr McCloskey was further charged with driving without insurance and without a licence, carrying an unauthorised pillion passenger, driving a motorcycle without protective headgear and with handling goods stolen in the Republic of Ireland, namely £295 in cash and 60 euros.
A detective constable told the court she could connect the defendant to all the charges.