Antrim community fears loss of mobile phone coverage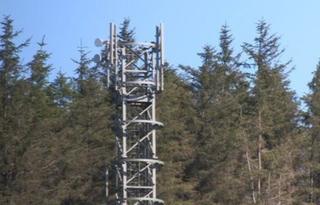 A community in the Glens of Antrim has said it fears the consequences of being left with no mobile network coverage.
The network provider EE turned off its service from a mast in the Glenariff area for a short period last year but agreed to switch it on again until a longer term solution could be found.
The company now says it plans to turn the mast off at the end of June because it is not commercially viable.
The community was inaccessible for a time during this year's heavy snowfall.
EE has suggested to residents that the area may be able to benefit from a new UK government initiative to improve mobile network coverage in rural areas.
It was announced last month that the £150m Mobile Infrastructure Project (MIP) would be delivered by communication infrastructure company Arqiva.
Arqiva are also the owners of the mast that EE currently use in Glenariff.
It is understood that Glenariff is not currently being considered for the MIP project.
In a statement Arqiva said: "The criteria for sites to be eligible for MIP have been set by the Department for Culture, Media and Sport and we are required to seek their views on whether a site can be eligible for funding under the MIP programme.
"However, you should note that the MIP funding is for capital funds only, with the mobile operators meeting the ongoing operating costs for sites.''
EE said it cannot continue to operate its services in the area at a loss but says it believes that Glenariff should be considered for MIP.
"Unfortunately, to date, DCMS and MIP have initially indicated that they do not feel that the Glenariff site meets their criteria.
"We remain disappointed by their decision, and feel this is a missed opportunity for MIP to demonstrate its purpose in providing coverage to underserved areas," it said.
EE says it would be willing to keep operating in the area for up to 12 months if Arqiva would agree to bring Glenariff into the MIP scheme.
Sinn Féin MLA Oliver McMullan says he intends to raise the issue with the Department of Enterprise, Trade and Investment (DETI) minister.
"We saw the real benefit of having that coverage here in the recent snow - this area was devastated and a lot of the landlines were down. People here could have been in a much worse situation without that mobile coverage.
"We fall between a rock and hard place. If it's operating, it doesn't qualify (for MIP), but if it is turned off then it could qualify - but I emphasis the word could, there is no guarantee that it will."
Arqiva are to identify nearly 600 sites across the UK where there is little or no mobile coverage. It is understood around 50 sites will be identified in Northern Ireland.
Liz Weir runs the Ballyeamon Barn tourist hostel and said local people feel they are being left in a very vulnerable situation.
"It's ridiculous to turn off a mast that is working properly, it's the only mobile phone provider that we can get here. I am called down to accidents on the road and so on and without that phone signal we couldn't summon help."
No guarantees
Joe Dowdall works for the North West Mountain Rescue, which operates in the Glens.
"In mountain rescue now we use computerised mapping systems and we can actually pinpoint a person's location by sending them a link if they have coverage and can get data out on the phone.
"Lots of children train for the Duke of Edinburgh award scheme and they are constantly in this area, and a mobile telephone is a safeguard for them particularly."
If the mast is powered down at the end of the month, a case can still be made to extend the MIP scheme to Glenariff. This would mean all mobile operators would give a guarantee to provide a service in the area for several decades.
But with no guarantees of being accepted for the scheme and the EE deadline looming, people in the Glenariff area fear they will soon be left with no coverage at all.