Residents protest against Casement Park stadium plans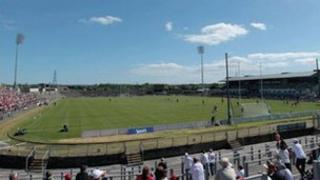 Residents living close to Casement Park in west Belfast held a protest before the Ulster senior championship game between Antrim and Monaghan on Sunday.
They gathered outside the ground on the Andersonstown Road in opposition to the GAA's proposed new 38,000 seater stadium.
They are worried about the height of the stadium blocking out natural light and its potential use for concerts.
Work on the redevelopment is due to begin before the end of the year.
The work is expected to last for 21 months and be completed by 2015.
The GAA will provide around £15m of the funding and the exchequer £61.4m.
The upgrade of Casement Park was one of three sporting venues highlighted as a "key priority" by sports minister Caral Ni Chuilin.
The other two venues for redevelopment are Ravenhill's rugby ground and soccer's Windsor Park.