Sinn Fein MP Michelle Gildernew misses working as MLA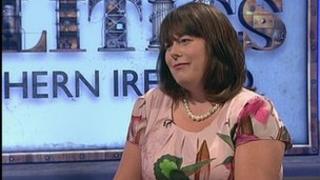 Sinn Féin MP Michelle Gildernew has said she would like to take her seat back in the Northern Ireland Assembly.
The Fermanagh and South Tyrone MP gave up her seat at Stormont last July due to new rules on double jobbing.
She has been an MP since 2001.
"I think any of the MPs would tell you that London's a very different animal and our issues are not dealt with in London to any extent. The assembly's the place where it's at," she told the BBC's Sunday Politics programme.
Ms Gildernew was responding to a question on whether Sinn Féin had made the wrong call on her behalf by giving up her assembly seat
"It was the right thing to do to end double jobbing, there's no question about that," she said.
"There are new people into the assembly, the five MPs are freed up to do other things, that's a good thing, but I was in the assembly for 14 years and I did enjoy it, whether it was on the department of social development (DSD) committee or whatever committee it was on, I tried to be as pro-active as I could be."
Sinn Féin has three other MPs in Westminster, Pat Doherty represents West Tyrone, Conor Murphy represents Newry and Armagh and Paul Maskey represents West Belfast.
Martin McGuinness resigned as MP for Mid-Ulster last year to focus on his role as deputy first minister in the Northern Ireland Assembly, but the party kept the seat after party colleague Francie Molloy topped the poll in a by-election in March.