Trailer of toxic sludge dumped close to Armagh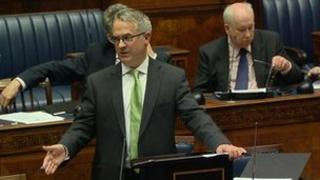 A trailer laden with between 20 to 30 containers of toxic sludge from illegal fuel laundering has been found dumped near Keady in County Armagh.
It was discovered close to the junction of the Castleblayney and Crossnenagh Roads on Saturday afternoon.
The containers held sludge from the process of removing dye from diesel.
Some had leaked and the Department of Environment is working to avoid pollution.
Huge amounts of money can be made from fuel laundering. For economic reasons farmers and some industries get diesel considerably cheaper than road users.
A red dye is put into the discounted fuel in Northern Ireland to prevent it being used illegally. In the Republic of Ireland, green dye is used.
But in recent years, fuel laundering has become more common.
Environment Minister Alex Attwood said there had been more than 153 incidents involving laundered fuel waste since last July.
"For all the good work that has been done in terms of organised crime, there is more to be done," he said.
"The reason why it gets abandoned is so that the government steps in and removes the sludge."
He said the sludge cartons had to be exported to Britain to be disposed of properly and it cost between £300 and £400 for each container.
The minister said he thought the government should scale up its response.
"Let's put more money into enforcement, especially environmental crime enforcement," he said.
"Let's ensure those hauliers caught using illegal fuel have their licences withdrawn."
In April, Mr Attwood told the Northern Ireland Assembly legitimate hauliers believed that 50% of haulage firms were using illegal fuel.
He said there was one road in south Armagh where the sludge had been dumped on 10 separate occasions at about the same location.