City prepares for 'spectacular' river finale of Return of Colmcille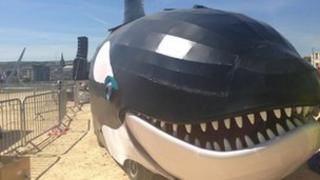 Thousands of people are heading to the banks of the River Foyle in Londonderry for the final stages of the Return of Colmcille.
The 30-hour show was written by Frank Cottrell Boyce and is the centrepiece event for Derry's year as the UK's City of Culture.
It is expected that the Loch Ness monster will swim up the River Foyle for an epic battle with the city's patron saint.
During the last few hours the whole city has been transformed into one giant theatre with dozens of performances, telling stories from the city's past, occurring simultaneously.
Some of those stories included the tale of Amelia Earhart, the first woman to fly across the Atlantic and Dopey Dick, a killer whale that got trapped in the River Foyle.
At 21:00 BST the People's Procession will begin when a siren will sound calling all the people from the city to the banks of the river to help protect it from the Loch Ness monster.
Thousands of local residents are expected to take part and march towards the river in extravagant costume.
Facelift
There will then be a battle on the river which organisers have claimed will be "epic and spectacular".
Some areas of the city including Free Derry corner have received a facelift for the day, temporarily turning them into the fantasy town of ColmVille.
Earlier a giant book was revealed in the middle of the city in Guildhall Square.
The book was a gift to the city and was delivered by boat in a giant box from Iona on the western coast of Scotland.
The work is the first piece from Frank Cottrell Boyce since he worked on the opening ceremony of the London Olympic Games.
About 800 people will take part in the two-day performance.
Mr Cottrell Boyce ,who has claimed the Return of Colmcille will be "better than the Olympics" has said he is excited about the finale of the performance.
"During the technical rehearsal I was working across the Peace Bridge and I heard this almighty roar. Everyone on the bridge stopped and looked around," he said.
"We were testing the sound for the Loch Ness monster over a mile away and it still had the ability to instil fear in people. I can't wait to see people's reactions later tonight."
Two weeks ago the city hosted the Radio 1 Big Weekend when acts like Bruno Mars, Olly Murs, the Script and Calvin Harris performed.