Royal Portrush denies it has secured the 2018 Open Championship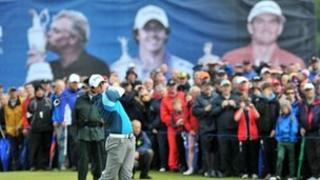 Royal Portrush golf club has denied a newspaper claim that the UK's top golf tournament is to be staged in Northern Ireland in 2018.
The Sun reported that the Open Championship would be staged at the County Antrim venue in five years.
However, the tournament committee chairman at Royal Portrush, said: "It's an absolute no at this point in time."
John Bamber said they had aspirations to host the event but the newspaper had got "slightly ahead of itself".
Royal Portrush has hosted the Open Championship before, but it was back in 1951.
Due to the success of Northern Ireland's three top golfers, Rory McIlroy, Graeme McDowell and Darren Clarke, efforts have been underway to bring the event back to the north coast.
The Irish Open was held at Royal Portrush last summer and the staging of the event was widely considered to be a success.
It was also seen as a possible test for the venue's ability to cope with the demands of hosting the larger British event.
Mr Bamber told BBC Radio Ulster: "We're delighted to continue any engagement - I know that certainly government, the Northern Ireland executive under Arlene Foster's department, have been very helpful in looking at the possibilities for such an event, but at the same time there is no announcement that we would be in a position to make at this point in time."
He said sporting events of the "magnitude" of the Open Championship took a huge amount of planning over a period of "five to ten years".
"It is an aspiration that many have, but at the same time there is a phenomenal build-up time to these (events), to have the infrastructure, to have the requirements in place and that's really how these events can come to bear," Mr Bamber added.