Baggott rejects PSNI 'cannon fodder' claim over loyalist violence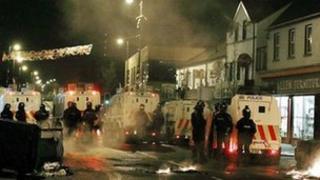 Northern Ireland's chief constable has rejected suggestions police were used as "cannon fodder" during violent loyalist protests.
Matt Baggott was responding to criticism of police tactics during trouble linked to union flag protests.
The Police Federation said how the PSNI dealt with the protests was unacceptable.
However, Mr Baggott said his colleagues had been authorised to use plastic bullets but decided to show restraint.
He told the Policing Board: "I will never accept there is any perception that police officers should or will be used as cannon fodder.
"Any such accusation or perception is wrong."
Loyalist protests followed Belfast City Council's vote in December to limit the flying of the union flag from city hall.
Some of the demonstrations resulted in violence. Scores of police officers were injured and many roads were closed.
On Wednesday, Terry Spence, the chairman of the Police Federation, said tougher action should have been taken during trouble, including early use of plastic bullets.
Mr Baggott said: "When colleagues faced that violence with such commendable courage and restraint they had the authorities to deploy AEP (baton rounds).
"In my personal conversations with many colleagues, including baton round gunners, they have told me they chose not to use those authorities because firstly, they are professional and they saw the need for restraint.
"I commend them for that because they saw the bigger picture."
Mr Baggott described the PSNI approach as lawful, measured and in line with human rights legislation.
He said: "Over those months we stopped a very volatile situation from escalating out of control with all the implications that had.
"We contained the violence to a limited number of areas and ensured we had the resources available to deal with it.
"As chief constable, I will always put the public good before playing politics, before playing to any political agenda, to winning brownie points or support from any particular part of the community or playing to the gallery."
As a result of the violence, 246 people were arrested, 188 of whom have been charged.
During a speech to the annual Police Federation conference on Wednesday, Mr Spence said the early and rapid deployment of baton rounds could have prevented injuries to more than 140 front line police officers.
Mr Spence said there had been a "tactical operational failure in how we first handled these public order confrontations".
He added: "We are not cannon fodder."