Is Londonderry making its mark as City of Culture?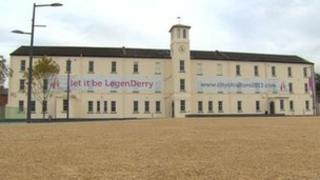 It is almost halfway through Londonderry's year as the UK's first city of culture - so how well is the city selling itself beyond its own shores?
Walking through the South Bank cultural quarter of London, it was difficult to find people who knew the name of this year's UK City of Culture.
Even though it was in the wake of the highly-successful BBC Radio 1 Big Weekend in Londonderry, only three out of 50 people realised it holds the UK-wide cultural title. In percentage terms, that is only 6%.
It was a random sample of people, not conducted to recognised scientific standards, but it suggested more work needs to be done in selling the City of Culture across the Irish Sea.
In answer to the question 'which city is the UK City of Culture?' most people guessed Liverpool, Glasgow, Oxford, Manchester or York.
Derry may appear to be struggling to make a name for itself in London, but the city on the banks of the Foyle is still packed with visitors.
Newly-released figures from the Derry Visitor and Convention Bureau show that last month's hotel average-occupancy rate was 81%. There was the largest number of hotel rooms ever sold in one month in the city - approximately 16,000.
Organisers in Derry have said their initial marketing operation could have been better but they say progress has been made.
A spokesperson for City of Culture 2013, Fiona Kane, said: "External research undertaken in October 2012 showed that less than 1% of adults polled (by Millward Brown) were aware that Derry-Londonderry was the UK City of Culture.
"Starting from this low baseline we have always had a large challenge and a steep hill to climb.
"We are confident that awareness has increased substantially from this point, but we are mindful that there is still a way to go. The campaign is around a long-term perception change and this will not happen overnight, although we have made a significant start."
A number of major events in the year-long arts extravaganza are coming up, including this weekend's Return of Colmcille festival and the all-island fleadh, an Irish music competition and festival, in August.