Airtricity announces 17.8% electricity price increase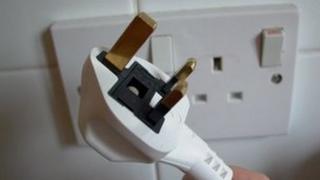 Airtricity, Northern Ireland's second biggest electricity supplier, has announced it is increasing prices by 17.8% from 1 July 2013.
The move matches that by Power NI, which is raising its prices by 17.8% from the same date.
Airtricity said it could not continue to absorb the significant increase in wholesale costs.
"We very much regret the need to increase our prices," the company's managing director Stephen Wheeler said.
"As the utility regulator has pointed out, local prices are vulnerable to the rising energy costs on the international markets and those costs have remained high.
"Airtricity remains committed to offering a fair price for the energy we supply and providing a range of practical and financial support measures for those struggling to pay their bills.
"We recognise that this type of electricity price volatility presents significant difficulty for customers in managing their household budget and we would welcome greater stability in the management of regulated tariffs."
The company said the average annual increase for households would be £90.
The Consumer Council said it was disappointed by the price rise.
Its chief executive, Antoinette McKeown, said: "Airtricity's announcement is very unwelcome for struggling consumers and businesses.
"The biggest savings can be made by switching supplier and switching your method of payment.
"So, if you are with supplier 'x' and currently pay by cash or cheque, and you switch to supplier 'y' but also set up a direct debit, you can make the biggest savings."
Announcing its price rise last week, Power NI said it was in response to world fuel costs over which the firm had no control.
At the end of 2012 Power NI had 78% of the domestic market, Airtricity had 19%, and Budget Energy had 3%.
The figures for the business market were: Power NI 49%, Airtricity 28%, Energia 12% and Electric Ireland 11%.
As the cost of generation has gone up and down over recent years, all the main suppliers have roughly followed the trajectory of Power NI in terms of their prices.