Restoration finishes on Titanic-linked SS Nomadic ship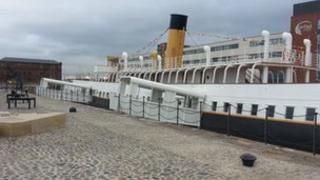 She is a veteran of two world wars and a link to a luxurious Titanic past, and Charlie Chaplin and Elizabeth Taylor have been on board.
The SS Nomadic has led a rich and varied life.
As of Saturday this ship, the last remaining vessel of the White Star Line, will be open for visitors on the Belfast docks where she was built and fitted out.
History
Nomadic was built to ferry first and second class passengers to RMS Titanic from Cherbourg in France, a port too small for what was at that time the largest ship in the world.
John Jacob Astor was among those who travelled out to Titanic on her. He was the richest man on board, having inherited the fortune his prominent American family made in fur trading.
Astor died when Titanic hit an iceberg and sank four days in to her maiden voyage.
Molly Brown, another Nomadic passenger, was luckier. She survived and went on to become famous for raising money for other survivors.
After the disaster, Nomadic continued working as a tender ship, ferrying passengers out of Cherbourg port for White Star Line ocean liners.
In World War I she became a minesweeper, detonating mines along the French coast.
In World War II, thousands of British soldiers and French workers were evacuated out of Cherbourg on the Belfast-built ship as the German army advanced.
At the end of World War II she was due to be scrapped but escaped that fate. She worked as a tug and again as a tender - this time for Cunard, once a rival to the White Star Line and the owners of the Queen Elizabeth and the Queen Mary.
The slapstick silent film actor Charlie Chaplin arrived in Cherbourg on the Nomadic in 1952, on his way to premiere a film in England, where he had not been for 20 years.
He would live out the rest of his days in Europe - Chaplin had strong left-wing views and was refused re-entry to McCarthy-era USA, so he never made another transatlantic journey.
More than a decade later Elizabeth Taylor and Richard Burton trod the boards of the SS Nomadic. The Hollywood glamour couple were met on the Cherbourg quayside by photographers and journalists.
The scrapyard looked to be Nomadic's fate again in 1968. Ocean liners were losing business in the face of faster commercial air travel, and the ship, now under the French name Ingenieur Minard, was out of a job.
But she was saved and re-fitted to become a floating restaurant on the River Seine in Paris. Sushi was served on board, a nightclub dance floor was fitted and the ship became a cinema too, over the years it spent within sight of the Eiffel Tower.
Just before the turn of the new millennium, the ship's owner went bankrupt and Nomadic faced the scrapyard again. Nearly derelict, her upper decks were removed to get her under the low bridges on the way to La Havre. As she lay in a dry dock there, a campaign started in Belfast to bring her back to where she was built.
Return to Belfast
It cost £171,320 of public money to buy the ship at auction and she was brought back to Belfast in 2006, in a sorry state.
No distinctive yellow funnel, no wooden panelling, no white upper decks - she was a grey and shabby-looking ship. Now, however, she has been restored by, among, others, the Belfast firm that built her - Harland and Wolff.
"Authenticity was key to what we were trying to do," said David McVeigh of the shipbuilding company.
The workers on board faced challenges - for example, riveting is mainly a forgotten technique now. But the original plans were used to restore Nomadic to how she looked in 1912, to give tourists a taste of Titanic-era style.
The new Nomadic will be officially opened on Friday, 102 years to the day after she left Belfast to start her working life in Cherbourg.
Denis Rooney of the Nomadic Charitable Trust is pleased with the restoration.
"When visitors come on board they are going to get a very special experience," he said.