Catholic priest steps aside during investigation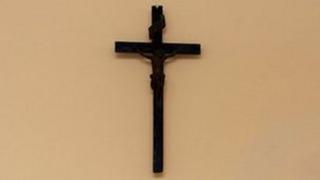 A Catholic priest has temporarily stood aside while an historic child safeguarding allegation is investigated.
The allegation relating to a priest in the Diocese of Clogher dates back some years.
The church said it has been reported to the civil authorities.
It added that all procedures laid down by the National Board for Safeguarding Children in the Catholic Church in Ireland were being observed.
In a statement, it said: "The Diocese of Clogher has been informed of a child safeguarding allegation in relation to a priest of the Diocese.
"The allegation relates to some years ago.
"The priest involved has been granted temporary leave of absence from priestly ministry while the matter is being investigated."
The statement added that the "safety and wellbeing of children remain of paramount concern" to the diocese and all resources are being used to ensure this.
The Police Service of Northern Ireland said it did not comment on individuals.
The Diocese of Clogher includes the counties of Fermanagh, Tyrone, Donegal and Monaghan.