Michaela McAreavey: Editor convicted over photos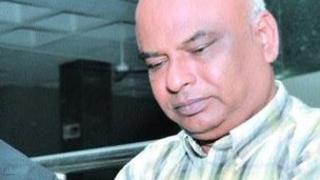 A newspaper editor has been convicted of outrage to public and religious morality for publishing photographs of the body of Michaela McAreavey.
The 27-year-old County Tyrone woman was murdered on her honeymoon in Mauritius in January 2011.
On 15 July 2012 The Sunday Times in Mauritius published a dozen pictures showing the crime scene, Michaela's body and her injuries.
The editor, Imraan Hosany, was arrested three days later.
At the Intermediate Court on Wednesday, magistrate Wendy Rangan ruled Imraan Hosany was guilty. He will be sentenced on Thursday.
The magistrate said the actions of Imraan Hosany were a "violation of human dignity" carried out "with a view to cater to morbid curiosity".
She said the publication of the police scenes-of-crime shots in the newspaper were not justified by any public interest, as had been argued by his defence, and were motivated by "sensationalism and profit".
The photographs were taken by a police photographer as part of the murder investigation but the police say they do not know how the Sunday Times obtained the images.
The paper has no connection to the British and Irish publication of the same name.
Imraan Hosany's lawyer told reporter Yasine Mohabuth that he will appeal.
"My client has been found guilty and we respect this court ruling," Akil Bissesur said.
"I can tell you that my client will appeal against this judgement."
The pictures, taken at the Legends hotel shortly after the murder, were published days after the acquittal of two men, Avinash Treebhoowon and Sandip Moneea, for Michaela's murder.
Michaela was the daughter of one of Ireland's best known sports figures, Mickey Harte, manager of the Tyrone Gaelic football team.
She had married John McAreavey just 12 days before she was murdered, and was buried in her wedding dress.
In a separate case related to the photographs, the Harte and McAreavey families last year launched civil proceedings against Imraan Hosany and the Mauritius Sunday Times
A spokesperson for the families said: "I can clarify that the family's civil proceedings against the Mauritian newspaper remain ongoing."
It is understood to be the first case of its kind against a newspaper in the country.