Islandmagee: Three rescued as dinghy blown out to sea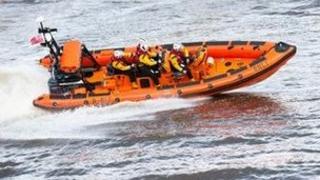 Three people have been rescued after a dinghy was blown out to sea off the Antrim coast on Sunday.
A woman and a child were in the raft which got into difficulty at Portmuck near Islandmagee at about 17:00 BST.
A man swam a mile out to sea to try and help them and the emergency services were called to the scene.
An RNLI lifeboat from Larne was launched and rescued all three people. They were shocked, but uninjured.
Pamela Dorman, RNLI, said: "Thankfully, all three people involved were brought safely home.
"The swimmer saw what was happening and tried to help, but the dinghy was acting as a sail and being blown further out to sea with the occupants unable to control it.
"He was exhausted, which is why we recovered him first into the lifeboat before returning to the dinghy and rescuing the woman and child."
Ms Dorman said while the weather was good, there was a strong wind. She warned that inflatable rafts could easily be blown out to sea.