Apple co-founder Steve Wozniak speaks out on tax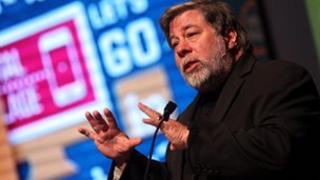 The co-founder of Apple has said big corporations should be treated the same as individuals for tax purposes.
Steve Wozniak was speaking in Londonderry at a business conference.
He said it would be "fair and right" to tax large firms on their levels of income, like individuals, and that Apple had started out to "empower the little guy".
Apple and other global companies have been under fire over the amount of tax they pay in the UK.
There is widespread public and political anger that some big corporations have minimised their tax payments at a time of economic hardship.
Mr Wozniak, who set up Apple with 300 US dollars apiece from him and friend Steve Jobs, said it was "really not fair" that businesses were not treated the same as people for tax purposes.
He said: "People are not taxed on profit, they are taxed on income, corporations should be taxed the same as people in my mind, that is how it should be, that would make things fair and right.
"That means corporations pay taxes on all of their revenues or people only pay it on a tiny amount called profit and until we rectify that the whole problem is just with us forever.
"That is why the rich get richer and the poor get poorer and I am always for the individual being much more important than their training, same reason I created the Apple computer at the start, it was to empower the little guy.
"Why do businessmen get to write off lunches and cars? If normal people did they would have more savings.
"That is really not fair, that businesses are not treated the same as people.
"A person would say, 'my life is my business and I have to pay for my home, pay for my clothes, my food and what is left over if I make a little money some year and put it in savings, that is my profit', but people are not taxed on profit, they are taxed on income."
Ireland 'tax haven'
Low corporation tax rates in the Republic of Ireland have been identified as being part of the way that corporations like Apple and Google minimise their tax bills.
Apple is one of several multinational corporations that have subsidiaries in Ireland.
Earlier this month, a US Senate subcommittee accused Apple of using Ireland as a "tax haven" and revealed the company had paid just 2% tax on $74bn (£48.8bn) in overseas income, mainly by exploiting a loophole in Ireland's tax code.
EU leaders met in Brussels last week to discuss tackling tax avoidance and pledged a range of measures to "ensure public confidence" in global tax systems.
Irish premier Enda Kenny has brushed off attacks on Ireland's tax regime for helping multinationals avoid billions in tax - insisting he was backing plans for global tax transparency and an end to tax havens.
Mr Wozniak left Apple in the 1980s.