Queen's University honours former US president Bill Clinton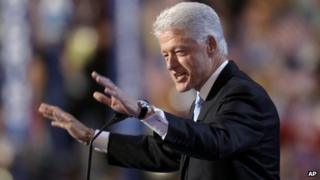 The former American president, Bill Clinton, has said he is honoured at the news that Queen's University is naming a building after him.
The Belfast university said it wanted to mark Mr Clinton's contribution to the Northern Ireland peace process.
Its new leadership institute will be called the William J. Clinton Leadership Institute at Riddel Hall.
Mr Clinton said it was an honour to be associated with the institute.
"It will prepare future business leaders for a time that requires economic innovation and, in the process, will demonstrate the determination of Queen's in Northern Ireland to seize the opportunities that peace has made possible," he said.
The university's president and vice-chancellor, Prof Sir Peter Gregson, said: "Queen's is proud to honour President Bill Clinton for the part he and his administration played in helping deliver the Northern Ireland peace agreement.
"President Clinton's role should not be underestimated and Northern Ireland owes him a great debt of thanks."
Prof Gregson said the aim of the leadership institute at Queen's was directly aligned to the goals of the Clinton Foundation.
"It will provide a focus at the heart of the local business community, supporting ongoing economic development to shape its future. Through direct engagement with both public and private sectors, its impact will be felt across business and the professions; there will be a special emphasis on supporting the development of small businesses upon which the Northern Ireland economy depends. This development provides an enduring legacy for a remarkable president," he said.
The former US president last visited Queen's in 2001 when he received an honorary degree from the university.
Senator George Mitchell, who chaired the Northern Ireland peace process talks at Stormont, was chancellor of Queen's University from 1999 to 2009.