Norman Moffatt murder: Accused told acquaintance he stabbed pensioner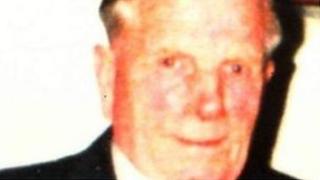 A man accused of murdering a pensioner admitted to a woman that he stabbed him, a court has been told.
Norman Moffatt, 73, was attacked as he walked along Railway Road in Coleraine, County Londonderry, in January 2001. He died two months later.
James Alexander McCook, 43, with an address in Stockport, denies murdering the pensioner.
Martha Brown told the court that Mr McCook made the confession at a party in 2006.
Giving evidence at Antrim Crown Court on Tuesday, Ms Brown said she first met Mr McCook after social services sent him to stay at her mother's house when he was a teenager.
She told the court that in 2006, the defendant admitted stabbing Mr Moffatt.
Ms Brown said it happened at her cousin's house after a night out in which she bumped into Mr McCook at a pub.
"He told me he had stabbed Norman Moffatt. I said I didn't believe it. I couldn't believe it. He had no expression on his face. It wasn't the same James that I knew.
"I was so shocked and hurt, I lifted a bottle and split him open with it."
Under cross-examination, the jury heard that Ms Brown did not tell police about the alleged confession for a period of three months.
When asked about the delay in reporting the matter, the witness said that she did not want to be viewed as a police informer.
A defence barrister put it to Ms Brown: "There was Mr Moffatt left to die, for all anyone knew, on the streets of Coleraine.
"This was a notorious murder in the Coleraine and Potrrush area - and you just decided you don't like informers?"
She replied: "No. That's wrong. Would they have believed me?"
Ms Brown went on to tell the court: "I was scared."
After the stabbing, Mr Moffatt was taken to Causeway Hospital in Coleraine for emergency surgery but remained critically ill.
A few weeks later, he was transferred to the Ulster Hospital where he died.
Mr McCook is originally from Northern Ireland but was arrested in Stockport last year.
The case continues.