Mourne Park House fire guts County Down ancestral home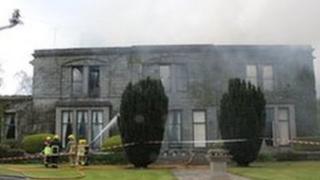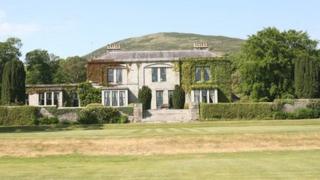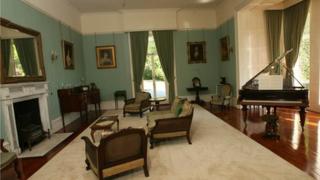 More than 80 firefighters have been involved in tackling a blaze at a large stately home in Kilkeel, County Down.
They were called to the scene at Mourne Park House on the Newry Road, Kilkeel, shortly before 10:00 BST.
The roof of the main part of the house has collapsed and firefighters are trying to stop the flames spreading to adjoining wings of the building.
The house is the ancestral home of the earls of Kilmorey and is one of Northern Ireland's grandest homes.
The Northern Ireland Fire and Rescue Service said it was too early to say what caused the fire, but it is believed it may have started in the roof.
Area commander John Allen said: "Our priorities were, one, to prevent the fire from spreading to the adjoining wings of the building and two, to save as many of the artefacts in the building as we could.
"Not only the artefacts in terms of history and legacy, but also, this is a family home where a family with their children live and (our intent was) to save their items which were of sentimental value."
The 17-bedroom property has eight reception rooms and seven bathrooms and has been on the housing market for a number of years.
The ownership of the estate dates back to the middle of the 16th Century, when Edward VI granted extensive lands in the Newry and Mourne area to the Marshall General of the Army in Ireland, Sir Nicholas Bagnall.
Lavish parties
The current house was rebuilt in 1806, on the instructions of its then owner, Francis Needham, who later became the first earl of Kilmorey.
Needham was an Army officer turned politician, who is best remembered for the military defence he mounted in Wicklow during the 1798 Irish rebellion.
The Kilmorey family's main estate was in Shropshire, England, but they used Mourne Park as their holiday home.
They threw lavish parties on the County Down estate, hosting royalty and many high-profile politicians.
The royal guests included Edward VII, who was a frequent visitor to Mourne Park.
During World War II, the house was used by British and US regiments before they were deployed to France.
The last earl to live in the house died in 1961, and ownership of the house has since passed through the female line to the current owners.