Pair jailed over Dungannon grenade haul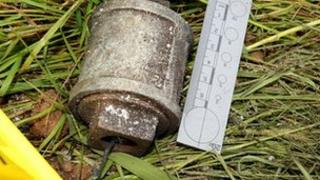 A Dungannon man caught transporting seven home-made grenades has been jailed for 10 years.
Martin McGilloway, 41, admitted having the explosives with intent to endanger life on 28 May 2012.
He was jailed at Belfast Crown Court on Friday and his co-accused, Thomas Hamill, 41, was jailed for the same period last week.
The court heard McGilloway had been the driver of a car chased by police for a short distance in Dungannon.
After the car had performed a U-turn at Mineveigh Road, officers witnessed a black holdall being thrown from the passenger side window.
Prosecuting lawyer Philip Henry told the court when it was retrieved, officers uncovered seven "improvised explosive devices".
They contained nails, nuts and bolts to be used as shrapnel, and would be lit with a fuse.
While there was no forensics link to McGilloway, a single father of two of Springdale estate, Dungannon, to the bag or its contents, he had been the "courier" to transport his friend, Hamill, also from the Springdale estate, when they were intercepted.
The judge found no reason to distinguish between the pair.
He noted that McGilloway had accepted he had agreed to be the driver of the car and had engaged in a futile attempt to escape police.
The judge said: "You may have had a limited role but I am not dissatisfied you don't fall within the category of being dangerous so I don't see any distinction between you and Hamill."
He ordered both McGilloway and Hamill to spend five years in jail and five on supervised licence conditions.
A spokesman for PSNI Serious Crime Branch said: "These improvised devices were designed to function as anti-personnel grenades and were probably intended to be used to attack police or other members of the security forces.
"The nails, nuts and bolts inside would have caused serious injuries or worse to anyone in the vicinity of these devices exploding.
"There is no doubt that the actions of police in this case have protected their colleagues and the public from the serious injury or death."