Northern Ireland Parades Commission to continue difficult role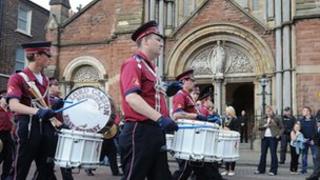 The Parades Commission is an organisation which ideally wants to be out of business.
That's certainly the vision it outlines in its annual report - the creation of a parading environment where the commission is not needed.
But more than 15 years since it was born amid violence at Drumcree in Portadown, it has yet to win over the Orange Order - or unionist politicians.
What is more, some of its determinations have been repeatedly flouted and just last year a new flashpoint at St Patrick's Church Belfast emerged.
Nationalist residents at Carrick Hill, some of whom are parishioners, complained bandsmen from the Shankill Young Conway Volunteers band played provocatively. During a break in the parade, the band marched in a circle outside the church playing a sectarian song.
The Parades Commission became involved, and placed restrictions on subsequent loyal order marches.
The Shankill band was banned from marching past the church last August during a march by the Royal Black Preceptory.
This decision was breached and there was trouble when the commission's other ruling, that only a single drumbeat be played in the area, was breached with some bands playing music.
"It's offensive, it's disrespectful, it's triumphal," Sean Maskey told the View.
A member of the Carrick Hill Residents Group, he insisted the aim was not to block or re-route the parades. He said the residents were however in favour of no music being played in the district as the marched proceeded.
"We want to let them enjoy their day and celebrate their culture you know. But show us some respect," he said.
Dr David Hume, director of services at the Orange Order, countered that it is too simplistic to blame one side, or one band.
"The parades are the focus for protests," he said. "Bands are also often the focus for protest or remarks being shouted - all sort of things - and you know both sides have to step back from that."
"The republican community should remember the third colour in the tricolour is orange."
The order is once again facing calls to speak to residents. But it has refused to speak to Carrick Hill Residents' Association, opting instead to speak to Fr Michael Sheehan from St Patrick's.
Dr Hume said this was a matter for local lodges, which sometimes preferred not to speak to groups whose members include republicans.
This disagreement has echoes of the attitude which contributed to the Drumcree standoff in the late 1990s - when the Orange Order refused to talk to Garvaghy Road residents.
That spawned the Parades Commission - a body the Grand Orange Lodge still refuses to recognise. Dr Hume branded some of the Commission's decisions as bizarre and its structures deeply flawed.
"The Parades Commission is not transparent, it doesn't really explain its decisions," Dr Hume said.
"It's a secret court effectively, as far as we are concerned, and if people wish to appeal the decision they should appeal back to the body that made the decision in the first place. As far as we are concerned it is not a very happy situation."
So how would the order improve the commission? "We would replace it and remove it," said Dr Hume.
The Orange Order rejected an attempt to replace the Parades Commission in 2010 amid concerns the proposals were no better than the status quo. An earlier review of parading led by Lord Ashdown proposed mediation, and adjudication with an emphasis on human rights.
Neil Jarman, director of the Institute for Conflict Research, has researched the parading issue in Northern Ireland. He said the Ashdown approach is worth revisiting, and one that the Parades Commission should follow more closely in future.
He said a focus on European human rights law with some account taken or previous behaviour, rather than public order, would ground decisions in international best practice, change the context and end inconsistency.
"It would give a clearer focus on what people need to do to be able to either enable parades to take place in a more equitable manner, or for people to be able to challenge the decisions of the Parades Commission in an easier manner."
The current commission has not been chosen for its expertise in human rights law.
One commissioner - Dr Catriona King - unexpectedly quit in December outlining her reasons in a private letter to the secretary of state. She is about to be replaced.
Some nationalists who do engage with the commission share the order's complaints about "inconsistent" decision-making.
Mr Maskey said residents from his group dislike the restrictions placed on their protest, and perceive a condescending attitude. He said the group was losing confidence in the commission, confirming a recent meeting ended badly.
"It broke up a bit of acrimony between them and us. It's their attitude really. We thought they were being overbearing, as if they were talking to a lot of children or something. It's as simple as that."
Less simple perhaps is getting rid of the Parades Commission. Nationalists continue to insist the key to that is dialogue. But without agreement or political consensus, the Parades Commission seems set to stay.
That means dealing with potential trouble this summer, not just in north Belfast's Ardoyne area, but in the new flashpoint at St Patrick's Church in Donegall Street where the Tour of the North Orange parade is due to pass next month.