Martin Corey lawyers compare his imprisonment to internment
By Vincent Kearney
BBC NI home affairs correspondent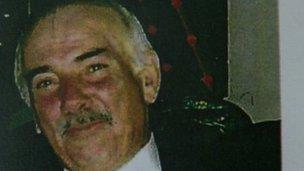 Martin Corey was sentenced to life in prison in 1973 for his part in the IRA murders of two RUC officers in Aghalee, County Antrim. He was released on licence in 1992.
Just over three years ago, on 16 April 2010, police arrested him at his home in Lurgan and he was told his licence was being revoked and he was being sent back to prison.
The 63-year-old member of Republican Sinn Fein has been told the decision was taken because he was considered a risk to the public.
But neither Corey nor his legal team have been told why that is the case, and they have not been allowed access to the police intelligence material on which the decision was based.
The Northern Ireland Office points out that Martin Corey's life licence was revoked by the Secretary of State at the time, Shaun Woodward, following a recommendation by an independent Parole Commissioner.
When his case was referred to the Parole Commissioners in 2011, they could have directed his release if they "were satisfied that it was no longer necessary for the protection of the public from serious harm that he should be confined to prison".
They refused to direct his release, saying they were not satisfied that his detention was no longer necessary for the protection of the public.
During hearings held by the commissioners, an unidentified witness gave evidence from behind a curtain and Martin Corey's legal team were not given details of any allegations against him.
But a Special Advocate chosen by Mr Corey's legal team to represent him in the closed proceedings had full access to the material and the opportunity to cross examine witnesses.
In July last year, a judge ruled that Martin Corey's detention was a breach of the Human Rights Act and said he should be released on unconditional bail.
But that decision was overturned after an appeal by the secretary of state, when the Court of Appeal ruled that the material provided to Mr Corey in support of his licence revocation met the relevant case law standards.
Earlier this month, the Supreme Court in London refused permission for Martin Corey's lawyers to challenge the decision by the Court of Appeal.
His lawyers are now preparing to take his case to the European court. They say he is being denied the right to a fair trial.
"It's like internment all over again in the sense that he hasn't been given the chance to defend his position," solicitor Peter Murphy said.
"When we ask questions about the nature of the allegations and evidence against our client we are told nothing.
Corey's supporters compare his case to internment without trial in the 1970s.
"In any criminal court you can meet your accuser, you have a chance to cross-examine them, and you have a chance to defend yourself because you're given the detail of what the allegations are against you.
"We don't have any of that, so our client is in a very difficult situation in that he's sitting in prison not knowing why he's there.
"We're looking for a ruling from the European Court that anybody is entitled to defend themselves and to be given the right to defend themselves before the courts. In order to be able to do that they should be given the information upon which, in this particular occasion, Mr Corey is being held in jail.
"He should be given reasons as to why he is being detained in custody and given reasons why the secretary of state believes he is a risk to society, so that Mr Corey can go along and properly defend himself before the court. Everybody has the right to defend themselves, and we believe we are not being given that right."
The solicitor has challenged the secretary of state, police or public prosecution service to bring charges against Martin Corey to enable him to know details of the allegations against him.
"During the three years he has been in prison he hasn't been charged with anything," Mr Murphy said.
"Those responsible for keeping Martin Corey in prison should initiate a proper investigation and, if needs be, charge him.
"In laying down this challenge, I do not believe that this will ever be done, because we don't believe the criminal standard could ever be met in a criminal trial in this case.
"This is an indefinite situation at the moment, there's no timescale, Martin Corey can be left languishing in jail for the rest of his life if the secretary of state wishes, without being told why."
The case is being followed closely by human rights group the Committee on the Administration of Justice.
Brian Gormally, the CAJ director, said it supported the decision to take the case to the European Court.
"We are concerned about it because Martin Corey is being held on the basis of secret evidence that he is unable to challenge, that is basically an affront to the rule of law in our view," he said.
"The European Convention of Human Rights says nobody should be detained without a proper court hearing. In our view, secret, closed material proceedings are not proper court proceedings."