Police outline security for G8 summit in Fermanagh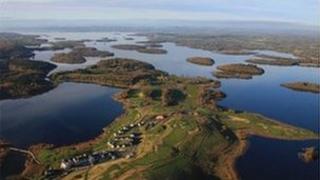 Police have revealed some details of the security operation to be put in place for the G8 economic summit to be held in County Fermanagh next month.
They said many campaign groups were expected in Enniskillen but added that only a small number would be intent on causing trouble.
School buses will operate earlier and schools will open early to help pupils avoid delays.
However, flexibility will be shown on exam times if pupils are delayed.
The Western Health Trust said all emergency and essential services would be maintained with extra ambulances available. GP surgeries and pharmacies will be open.
The details were revealed in Lisnaskea on Wednesday at a public meeting attended by representatives from the police, NIO, Foreign Office, Western Health Trust, Fermanagh District Council and the Western Education and Library Board.
Police said that, at present, there were no plans for permanent check points on the roads but these have not been ruled out.
Impossible to predict
However, the Lough Shore Road leading to the G8 venue at the Lough Erne Resort will close on 1 June with a pledge that it will re-open on 28 June, eight days after the summit ends.
World leaders will gather at the resort on 17 and 18 June for the economic summit.
Police said it was impossible to predict the number of people who would be carrying out protests during the summit.
They said there would be many campaign groups coming to Enniskillen to highlight their causes before the media accompanying the G8 and a small proportion would seek to cause damage, disruption or violence.
People could expect to see police in riot gear, dog handlers and Land Rovers. Water cannon would be on hand if required, as well as helicopters and boats.
An unmanned aerial drone would also be available.
Police have already been notified of a planned protest march from Enniskillen towards the newly-erected security fence.
They said there could be a few thousand people attending the protest or 10,000 or 15,000, Numbers were still unclear.
Clown wigs
Police said they were aiming for the best outcome as well as planning for the worst.
One group of protesters expected in Fermanagh for the summit is known as the Clown Army, whose members dress in combat gear and clown wigs.
Superintendent Alan Barton said: "They come along on occasions with colourful wigs, they come along on occasions with tickle sticks and they will engage with the local community, they will engage with the police on duty at the event.
"They will seek the publicity in order to raise the issue they are campaigning in respect of."
School buses operated by Translink and the Western Board will begin operating 30 minutes earlier in the mornings in the two weeks around the summit.
Parents of pupils sitting exams during this period will receive a letter within the next few days detailing transport arrangements for them.
However, they were also told there will be some flexibility around the start times of exams if pupils are delayed.
Fermanagh council said when the summit was over it would organise some family fun days for the community.