Rise in numbers made homeless by intimidation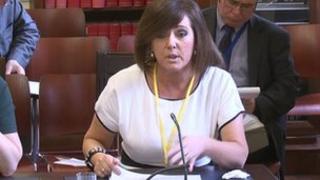 The Northern Ireland Housing Executive (NIHE) has said homelessness caused by intimidation has increased by 25% .
Jennifer Hawthorne said the figure for the past year stood at around 580 cases, 387 of which were due to paramilitary intimidation.
The figures were given at a briefing for the Social Development Committee on the Shared Community Scheme.
It is designed to address segregation in housing.
Ms Hawthorne said they were working, through improvement and integration schemes, to tackle ongoing issues in social housing such as hate crime and intimidation.
She said one of NIHE's biggest expenditures remains the Scheme for the Purchase of Evacuated Dwellings (SPED), which at its peak cost £40m annually.
Ms Hawthorne said they had a range of programmes to tackle the problems. They said they were working on schemes to take preventive action, including work on homes and communities at interfaces.
Ms Hawthorne also said there was a 90% level of segregation across social housing in Northern Ireland, with that figure rising to 94% in Belfast.
"While we are hugely encouraged by the recent census which has shown integration is improving, what we have found is that is largely in the private sector," she said.
Alex Maskey said the figures on intimidation should be treated with caution.
"You can just see the tweet headlines," he said.
"I wouldn't want us to be minimising any problems that need to be faced up to, but I think one way of us helping the situation would be not to headline some of these things until there is further interrogation of them."