Rathgael Young Offenders Centre: Arrests over abuse allegations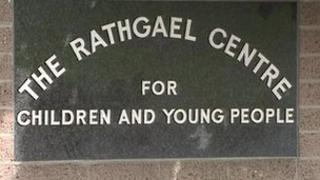 Police have arrested four men over allegations of physical abuse at a young offenders centre in County Down.
The abuse is alleged to have happened at Rathgael Young Offenders Centre in Bangor in the 1980s.
The men who have been arrested are aged between 42 and 57. The centre was closed in 2007.
A fifth man has been arrested on suspicion of blackmail at the Lakewood Regional Secure Care Centre, also in Bangor.
Four of the men have been reported to the Public Prosecution Service and the other has been released on bail pending further inquiries.
The Lakewood centre, on the Newtownards Road, is a residential home for vulnerable young people.
The investigation into the allegations at Rathgael and Lakewood started in January.