Schools warned to make contingency plans for exams during G8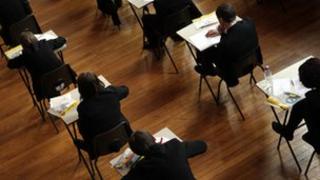 Schools are being urged to make contingency plans for pupils sitting GCSE or A level exams during the G8 summit.
There are fears of widespread traffic disruption because of security checks and possible protests.
Hundreds will be sitting exams over the two days of the summit. There is some flexibility over starting times.
So far no schools have told the exam boards they will ask pupils to go to a different location in case of delays.
World leaders will gather at the Lough Erne Resort in County Fermanagh on 17 and 18 June for the G8 economic summit.
The Western Education and Library Board is preparing detailed advice for schools in its area. The advice will be sent out to schools within the next few days. It will include information about road closures.
A special school in Enniskillen has said it will close for four days over fears about G8 traffic disruption.
Willow Bridge School opened in September as an amalgamation of two former schools: Erne and Elmbrook and has more than 100 pupils.
The school has told parents it made the decision because its special needs children travel from all over Fermanagh and Tyrone and it is worried their journey times could be greatly increased.
Willow Bridge said it would be a particular problem for children who need medical assistance.
They are also concerned that changes to their routine and bus journey may be distressing to pupils with some conditions.
It will be closed for extra "exceptional closure" days off from Thursday 13 June. It will reopen on Wednesday 19 June.