Four new foster carers 'needed each week' in NI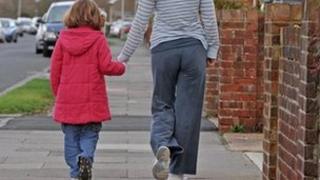 Four new foster carers are needed in Northern Ireland every week, to keep up with the rising demand, a charity has said.
The Fostering Network said there had been an 18% rise in children placed in foster care.
It means almost 2,000 children are in foster care in Northern Ireland.
The organisation, in conjunction with the Regional Adoption and Fostering Service, have issued an urgent appeal for carers.
Margaret Kelly of the Fostering Network said: "Around three-quarters of all children in care (at 31 March 2012) are in foster or approved kinship care.
"This is the highest percentage of children in foster care ever in Northern Ireland and makes foster carers the single, biggest provider of state care for children here.
"It's also important to note that kinship care has increased exponentially in the last five years, increasing by 53% between 2009 and 2011.
"In short, we urgently need local adults and families to provide loving and supportive homes for some of our most vulnerable children and young people. "
Speaking at the launch of Foster Care Fortnight, she said many of the children would have "experienced real trauma".
"We are in the privileged position of hearing unique stories of the kindness, love, skill and devotion, which show how central foster carers are to delivering best outcomes for looked after children," she said.
The Regional Adoption and Fostering Service (RAFS) works closely with the five health trusts to recruit, support and provide learning and development opportunities for both foster carers and adoptive families.
Una Carragher, from the service, said: "Fostering enables these children and young people to experience a stable home life where they can develop and grow."
There is no legal minimum or upper age to become a foster carer; single people can foster - as well as married or cohabiting couples; and foster carers do not need to already be a parent.