'UK' not used enough to promote City of Culture: MLAs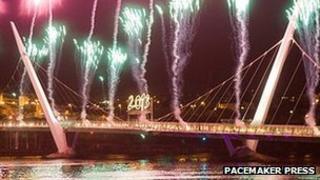 A Stormont committee has heard complaints from unionists that 'UK' is not being used enough in the promotion of Londonderry as UK City of Culture.
Ulster Unionist Michael McGimpsey claimed "cheap political point-scoring" had been taking place.
The DUP's William Humphrey expressed similar concerns at the meeting.
He said the Department of Culture, Arts and Leisure (DCAL) needed to ensure the full name of the UK City of Culture was used.
"Let's be inclusive," he said.
In response, a DCAL official at the committee said the comments had been noted.
Last week the Culture Company, the body set up to deliver the calendar of events in the city during 2013, said it faced a current shortfall in its overall budget of £611,000.
Some events in the programme may have to be cut back because of the deficit.
To date, the income from sponsorship and ticket sales has been much less than had been expected.
Funding gap
The Culture Company's chief executive, Shona McCarthy, said she was confident no cuts would have to be made.
The organisation is examining ways of dealing with the funding gap.
The City of Culture is one-third of the way through its calendar of events.
It is examining ways of dealing with the funding gap.
Earlier this month it was also revealed that Derry city council had asked the Department of Enterprise, Trade and Investment (DETI) for £1.3m of additional funding to bolster a city-wide marketing campaign, but the request was turned down.
DETI said it had already made a very significant contribution to the UK City of Culture, through the Northern Ireland Tourist Board, Tourism Ireland and Invest Northern Ireland.
The department said any request for additional funding from the executive would have to be routed through DCAL as it was the sponsoring department.