Senior PSNI officer calls for Northern Ireland leadership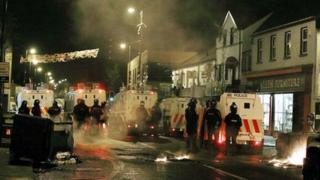 A senior police officer has said a lack of "mature, self-assured and quietly confident leadership" at times has left the Police Service of Northern Ireland (PSNI) "standing in that gap".
Ch Supt Nigel Grimshaw was speaking at the annual conference of the Superintendents' Association.
"The public expect much of their police service, and rightly so," he said.
"But... do we not have the right to expect much more from the communities we serve?"
Ch Supt Grimshaw said politicians are not moving quickly enough to develop a shared future to help ease tensions on the streets.
More than 100 police officers were injured in disturbances following the 3 December 2012 decision of Belfast City Council to limit the flying of the union flag, while officers have also been targeted by dissident republicans.
"Surely the maturing of political dialogue coupled with a move away from the threat of violence must be major elements in delivering the shared future that we all so much need," Ch Supt Grimshaw said.
"In its absence, there are others who will seek to create and occupy their own spaces and there will be a continued need for short-term policing solutions in the absence of genuine, confident societal change.
"It is the view of the (Superintendents') Association that the time has long since passed for those with influence at political, civic and community level to change the appetites of people across this society once and for all.
"In our view, that can only happen when we see the firm outworkings of a commitment to a shared future. It does seem that the realisation of the Cohesion, Sharing and Integration strategy is further away than ever."