Northern Ireland tributes to Sir Alex Ferguson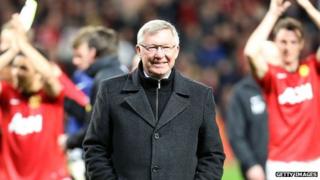 Sir Alex Ferguson, who has announced he is going to retire as Manchester United manager at the end of the season, has been described as "a great friend to Northern Ireland".
The Scot, 71, has won 38 trophies during his reign at Old Trafford.
He will now become a director and ambassador for the club.
Victor Leonard, chairman of the Milk Cup, said Ferguson had been a great supporter of the annual youth football tournament.
"Not just to the Milk Cup, but to many supporters' clubs over here, to special events like Omagh so many years ago, bringing a team across," he said.
"I'm delighted he's still involved with the club and will become an ambassador and I hope he will be back in Northern Ireland in the near future."
'Peace process supporter'
Northern Ireland Deputy First Minister Martin McGuinness also paid tribute to Ferguson.
"We had the honour of having him and the Manchester United team in Belfast last year for the Harry Gregg testimonial," he said.
"Alex Ferguson was very tuned into the politics of what was happening in the north of Ireland and was hugely supportive of the peace process."
First Minister Peter Robinson said: "I've met Sir Alex on a number of occasions, most recently on the occasion when he brought a first-rate team to Northern Ireland for the Harry Gregg testimonial.
"Many another manager would have brought a lot of young and new players over, he brought his first team and I think that says something about him."
'Tough job'
Former Northern Ireland international winger Keith Gillespie played for Ferguson at Man Utd in the 1990s.
He said he was shocked by his retirement.
"I think like most people, I thought he was going to go on forever - there was no indication he was going to call it a day," Gillespie said.
"No-one can argue with what he's done at Man Utd, he's one of the greatest managers there's ever been.
"It's going to be a tough job for somebody to go in and fill those shoes."
Gillespie was part of the youth team at Man Utd that featured the likes of David Beckham, Gary Neville, Paul Scholes and Nicky Butt.
"I grew up supporting them and wanting to play for them," he said.
"When I first met him (Ferguson) I was in awe of him, he has a presence about him.
"When I moved full time to England as a 16-year-old he was always there helping you out, because he understood the difficulty in being a young lad and moving away from home.
"He was fantastic at bringing us all through and he treated us exactly like you'd want to be treated."
'Still reeling'
Veteran broadcaster Jackie Fullerton said he was "still reeling" from the news that his close friend was retiring as Man Utd manager.
Mr Fullerton described him as a great man.
He said he "couldn't take in" the news of his retirement.
"I'm still reeling from this decision from this man who has won so much and has done so much for Manchester United, that he is stepping back from the job," Mr Fullerton said.
He said Ferguson was different from the "snarling figure" he sometimes appeared.
"I only stayed friends with him because I'm over here and I'm not in his face every day, having to ask him difficult questions at times," Mr Fullerton said.
"I've been in his office and he's got this lovely little sign that says 'I come fae Govan' (an area of Glasgow).
"He's a former trade union guy, he knows the worth of a pound as they say, but he's a very pleasant man, very grounded, he hasn't forgotten his roots, where he's come from and that's what impressed me the most about this very successful man.
"So he's not as he's portrayed at times in the press."
'Very gentle'
Linfield manager David Jeffrey described Ferguson as "an extremely warm and very gentle, very sincere person".
"I remember last year at the Harry Gregg testimonial game where I was involved with the Irish League select side I had literally minutes with him, but he was very kind and said some lovely words after we had another good season last year," he said.
"For someone to take an interest and to pass those compliments on to you was indeed wonderful.
"I found him a most gracious man and a most sincere man."
John White, of Carryduff Manchester United Supporters Club, said he was "absolutely devastated".
"For the last 27 years Sir Alex Ferguson has made Manchester United the kings of England, the most revered club in the land - hated by everyone, apart from Manchester United fans," he said.
"That's why we love him - look at his achievements with us."