A5 cash 'must go to other road projects' says CBI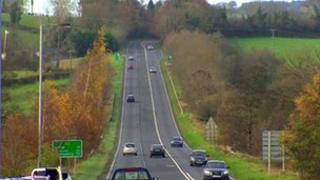 The Stormont executive is being urged to redistribute money earmarked for the stalled A5 to other roads projects.
The Confederation of British Industry (CBI) said upgrading a section of the A6 should get under way urgently.
The call comes as Regional Development Minister Danny Kennedy prepares to put spending proposals to his ministerial colleagues.
The A5 has been delayed by a court action, but this year was due to have received £120m in funding.
Mr Kennedy is preparing to put forward a case that his department should be allowed to retain the money for other projects, but he will need the support of other political parties.
Last month, a court quashed the decision to go ahead with the A5 scheme.
The project stretched from Londonderry to Aughnacloy, County Tyrone, but it faced a legal challenge from the Alternative A5 Alliance (AA5A) - a group of farmers, landowners and supporters who sought to block work on the 53-mile stretch.
The AA5A won their judicial review into the planned new route after the court ruled an environment impact assessment had not been carried out properly.
The road scheme, the largest of its kind in Northern Ireland, formed part of a proposed key cross-border business route linking Dublin and the north west.
Mr Kennedy is believed to be about to write to ministerial colleagues.
One of the alternative schemes the minister may consider is the upgrading of an eight-mile section of the Belfast to Derry A6 near Randalstown.
'Bottle neck'
Architect Ryan Dougan lives in Toomebridge but commutes every morning to Magherafelt.
"I'm probably well placed to see what the traffic is like in the mornings and certainly at peak times, I'd be out and about all day, it is catastrophic on occasions," he said.
"There's a bottle neck, on the far side of Toomebridge, on this side of Toomebridge and at the Castledawson roundabout, so it is very, very difficult to commute and to try and build in time in your journey to try and get there on time."
McLarnon Feeds is located on the Moneynick Road in Randalstown, close to the A6.
David Mawhinney said the company has dozens of 40ft (12m) lorries entering and leaving the premises every day.
"From our point of view it is clearly a road safety issue with the number of vehicles entering and leaving the site on a daily basis," he said.
"It's crucial that both employees and members of the public are safe entering and leaving the site.
"From four o'clock or half four on every afternoon, you can sit quite a long time at the gate to get out."
Carson McDowell runs a furniture business on the Moneynick Road.
Passing trade
"A new road would be quite some distance away from the present one," he said.
"We would have found that over the years we got lots of folks from a distance passing our door deciding to drop in, some from Belfast, some from Donegal, different parts of the province, so to us it hasn't really been a disadvantage.
"It's difficult just to know how it would affect our business, but it may not be to our advantage."