Sammy Wilson orders union flag to be flown from five buildings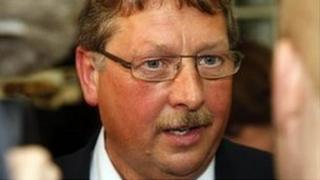 The Department of Finance has confirmed that minister Sammy Wilson has ordered the union flag to be flown at five more government buildings.
The move, which could cost up to £10,000, will mean the flag being flown on 18 designated days.
This is in line with other buildings, including Belfast City Hall.
Sinn Fein, the SDLP and the Alliance Party have all criticised Mr Wilson over the flags move.
A Department of Finance spokesperson said the move was allowed under existing regulations.
She said: "The regulation gives the discretion to fly the union flag at any other government buildings on specified days and the finance minister has confirmed he wants the department to fly the union flag at buildings where we have premises responsibility.
"Estimated cost per site is £500-£2,000 depending on the complexity of works required at each site - location of flagpole, structural issues, site preparation, works required etc.
"Work should be completed at all sites within four months."
One of the sites for the flag to be flown is Goodwood House, where Environment Minister Alex Attwood's office is located.
The SDLP's Mr Attwood said: "This proposal raises again fundamental questions about Sammy Wilson's and the DUP's judgment and their priorities in government, whatever minister Wilson might claim his legal powers to be.
"The DUP is making a bad situation worse. We should be working through the flags issue wisely and together. There are ways we can.
"It could consider the practice on government buildings, including the building that houses my private office. But Sammy Wilson's approach is to escalate, to act alone and not be wise."
Sinn Fein MLA for North Antrim, Daithi McKay, described the spending on flag poles as "deliberately provocative and a waste of public money".
"There are extremely pressing issues to be dealt with by the assembly such as the fiasco around the closure of care homes, the Welfare Reform Bill or creating jobs and employment. All of these are worthy of spending public money on," he said.
"In recent weeks officials from the department of finance were in front of the finance and personnel committee at Stormont explaining that they could not even carry out proper assessment of public sector pension reforms due to the fact that it would cost £10,000, yet the finance minister can spend that exact amount of money on a divisive pet project.
"Instead of giving issues like this priority the DUP minister has placed a party political project first.
"On the surface this move appears to breach the Flags Order and Sinn Fein will be seeking legal advice on the matter and in particular on the equality impact that this move could have."
The move was revealed by the Irish News on Tuesday.