Derry petrol bomb attack victim 'fighting for life'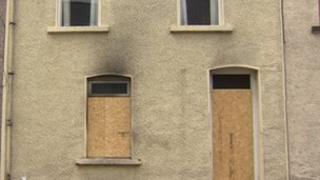 The man who was set on fire with a petrol bomb in an attack in Londonderry on Friday is "fighting for his life" a local priest has said.
Thomas Curry sustained 40% burns to his body and is in a critical condition in hospital.
Three people have been arrested in connection with the attack.
Two attackers broke a window and threw the petrol bomb into a house in Benvarden Avenue at around 23.10 BST on Friday.
A 20-year-old man arrested on Monday in connection with the attack.
A 24-year-old man was arrested on Sunday. A 25-year-old man and 44-year-old woman have also been arrested.
Father Michael Canny has been speaking to Mr Curry's family.
"The family are very, very concerned and traumatised at this time because he is fighting for his life and should he survive, what quality of life might he have?" he said.
"Tommy is one of those people who everybody in the Waterside, while they couldn't say they knew Tommy personally, I think a lot of people would have known Tommy."
Mr Curry was rescued from the house at Benvarden Avenue by two neighbours.
Ivan Ballard was one of the neighbours who pulled the man to safety.
"I got down as low as I could in the smoke. The sofa was on fire which lit up the room a bit more and that's how I saw him," he said.
"I tried to drag him from the floor out, but at this stage his clothes had melted to the floor.
"The smoke was catching my chest, I couldn't breathe properly, so I called for somebody to give me a hand and my neighbour who went in previously, he came in then and I got a hold of him in the hall and we took him out of the house.
"I can't get the images of him in a ring of fire, of him burning, out of my head."
The injured man is being treated at the Royal Victoria Hospital in Belfast and has undergone at least two operations.
PSNI Chied Inspector Jon Burrows said officers are looking at mistaken identity as one line of inquiry for the attack.
"Certainly that is one line of enquiry, because Mr Curry is entirely innocent and of course we're keen to hear what the motive for this was," he said
"No motivation, no background, justifies the action that was taken, but it would help us make sense of it, it would help our investigators make progress.
"I can reassure the public that our most senior detectives are investigating this, but we're still very early in the investigation and I need the community to give us the information about who did this."