Northern Ireland people jailed over fines may be able to claim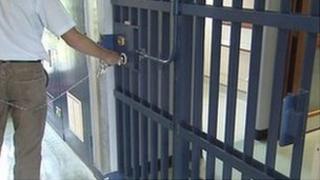 High Court judges have potentially paved the way for some people who spent time in prison for not paying fines to claim for damages.
Some of these cases could go back to 1981.
A number of test cases are now to be heard to try and establish what those damages might be.
It is possible anyone sent straight to prison without going before a judge could claim for damages from the PSNI or Northern Ireland Courts Service.
It could cost the taxpayer millions of pounds.
Solicitor Mark O'Connor from Larkin, O'Connor and Cassidy, is taking two test cases on behalf of clients.
"This opens the floodgates to potentially tens of thousands of claims for damages in cases dating back more than 30 years," he said.
No date for these cases have been set yet, but it is expected to be within in the next few months.
Until recently, if someone did not pay a fine within a certain time an arrest warrant or money warrant was automatically issued for their detention.
The size of the fine dictated how long they spent in prison.
The practice was recently found to be unlawful as no-one was given the chance to explain in front of a judge why they could not pay their fine.
Now, if someone does not pay their fine, they will appear before a judge.
A change in the law is under consideration.
The Department of Justice said it had consulted on a range of measures and was now working to establish a new fine enforcement service within the term of the current assembly.