DUP abandons cenotaph Union flag campaign at Belfast City Hall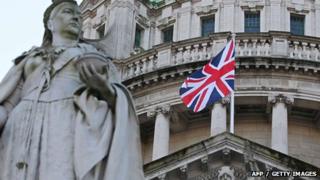 The DUP has abandoned its campaign to have the Union flag flown every day at the Cenotaph in the grounds of Belfast City Hall.
There was no vote on the issue at the monthly meeting at Belfast City Council on Wednesday.
The Royal British Legion opposed the move saying they did not want to see the Cenotaph politicised.
A small group of loyalist protestors gathered outside the city hall but there was no trouble.
Last month, the cenotaph proposal, which had been put forward by DUP councillor Lee Reynolds, was brought before a meeting of the council's policy and resources committee.
Sinn Fein, the SDLP and Alliance voted against a change to the council's policy while unionist members voted in favour.
The DUP had hoped Alliance would back the proposal.
But council sources said Alliance had decided to oppose the move, as an equality screening found that there were equality implications.
Alliance councillor Maire Hendron said "people out there are very, very tired of listening to flags".
"There are some people who are revelling in it, enjoying it, but the people who make a contribution to this city, the people who are running their businesses, they are tired of the whole topic," she said.
DUP councillor Lee Reynolds said: "It's going to be a long game.
'Memories'
"There was a problem created on 3 December.
"We had put something forward as a solution, that has now not progressed. That means we still have the problem and unionists have memories, unionists have feelings, and this is something that we will return to."
Sinn Fein councillor Tom Hartley said society was "moving on".
"The decision has been made and we shouldn't draw the cenotaph into being a political football," he said.
Last December, the council voted to restrict the flying of the Union flag over city hall to designated dates.
This followed an equality impact assessment.
Loyalists were outraged by the move and weeks of street protests, sometimes violent, ensued.
A number of police officers were hurt during disturbances, several politicians received death threats and homes and property were damaged.
Following the council's decision in December, unionists attempted to push through a similar review extending the number of days the Union flag is flown over Stormont's parliament buildings.
But the plan was blocked by nationalists and Alliance, who boycotted a meeting to discuss the proposal.
Other Northern Ireland councils, such as Down district, fly their own flags.
The Department for Culture, Media and Sport has designated 18 days on which the Union flag is flown in Northern Ireland in 2013. It may also be flown during the opening and closing of Parliament by the Queen.