Healing power of music in battle against addiction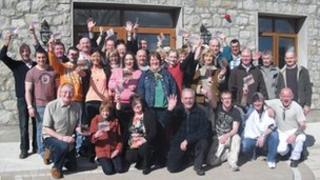 Belting out a ballad may hold the key to beating alcohol and drug addiction.
And the healing power of music has already struck a chord in a big way for one group on the way to recovery.
Getting 80 people being treated at the Cuan Mhuire centre in Newry, County Down, to sing was preaching to the choir.
For eight weeks the 80 have been raising their voices in song to help their rehabilitation.
The patients sang songs they had written as well as traditional pieces.
One song is called, I Don't Deed No Dope, To Help Me Cope, which the singers regard as a statement of intent on their journey to recovery.
Jim Clarke, a resident at Cuan Mhuire, said: "The singing and music became a part of our everyday activity while on the programme. We would practise together and sing every day.
"It was like an awakening of something in our lives that had gone to sleep. Something was switched on again, like a light switch, and we were lit.
Healing agent
"It has been the best therapy I have ever known and amazing fun."
The idea to use music as a healing agent came from Sheila Smyth of the Right Key body, an organisation that helps promote health and recovery through music and singing.
She said her work in Cuan Mhuire had been truly inspirational and would continue.
"We have seen how music can make a breaking point into a turning point. An important part of recovery is improving peoples' image of themselves," she said.
"They need to know that they have value as an individual, and that they have a purpose.
"Trust was built and because of this, people felt safe to try new things, like singing a solo, or sharing a story.
Helped recovery
"It is like soldiers together in a war, these are the survivors, and they genuinely care for each other."
Mavis Scott took part in the programme at Cuan Mhuire and is now back home. She had no doubts that the novel form of treatment had helped her recovery.
Mavis took part in a concert and the recording of a CD by the patients.
"There is no mood-altering substance that can ever make you feel the way we did after the concert and while making this CD.
"There were moments when we laughed and cried together, but those moments became part of our healing process.
"Life is better than it has been for a long time. I look forward to going back each Wednesday for aftercare, and to continue singing. It helps me stay strong," she said.
"Music is like a kind of magic vitamin for the brain," said Dr Julie Sutton, a registered music psychotherapist at the Belfast Health Trust.
She said it is "a drug, if you like, for their brain that is not going to be destructive. It doesn't matter how much music you listen to - music is going to have a much more benign effect.
"The capacity to be creative is what keeps us healthy."
Residents raised the funds to produce the CD, called Fresh Start, by selling concert tickets to family and friends.
The proceeds from the CD will go towards helping others recovering from addiction.
Sheila Smyth is using music to treat other illnesses.
Her projects include the formation of an Alzheimer's choir in partnership with the Alzheimer's Society.
She is also forming a singing group with women in a divided area of north Belfast who wish to build cross-community relations.