Sectarian polarisation at NI further education colleges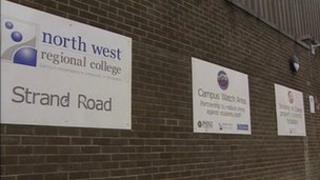 A religious headcount of students at Northern Ireland's further education colleges has shown most are polarised in terms of Catholics and Protestants.
Five of the six institutions have many more students of one religious denomination than the other.
The largest imbalance is at the North West college in Londonderry, where Catholic students outnumber Protestants by more than three to one.
The DUP said too few Protestants were going into further education.
The figures show there are also many more Catholic students than Protestants in the South West and Southern regional colleges.
However, in two other further education colleges, there is an opposite imbalance in the student population - Protestants greatly outnumber Catholics at the Northern and South Eastern colleges.
'Chill factor'
The denomination of about a quarter of students is not known.
A spokesperson for Stormont's Department for Employment and Learning (DEL) said the figures broadly reflect the population of the geographical area where each college is based.
The DEL spokesperson added that very few students report a "chill factor" that might deter them from attending a particular college.
DUP MLA, Alex Easton, said he is concerned that fewer Protestants, overall, are opting to go into further education and training.
He wants DEL and the colleges to do more to attract them to study at the six institutions.