Belfast primary school evacuated over security alert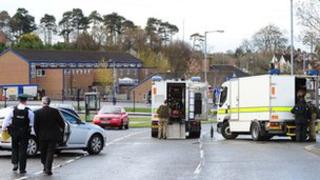 A security alert near a primary school in south Belfast has ended.
Children did not return to Belvoir Park Primary School after being evacuated. Roads were re-opened at midday on Friday.
Army bomb disposal experts were at the scene at Belvoir Drive, which was closed between the junctions of Dunseverick Avenue and Grays Park.
A number of suspicious objects have been taken away to be examined, but have been declared not to be viable.
A nearby church was used to shelter evacuees from the school and from Belvoir Activity Centre.
The mayor of Castlereagh council, Michael Henderson, condemned "the actions resulting in this morning's security alert, which resulted in severe disruption".
Alliance Party assembly member Anna Lo said she was "disgusted" that young children had to be evacuated.
DUP assembly member Jimmy Spratt said he was "alarmed" to hear about the security alert.