NI construction industry 'behind rest of UK'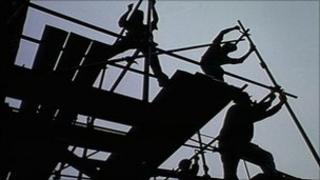 Northern Ireland's building sector continued to significantly lag behind the rest of the UK in the three months to the end of March, a survey has said.
The RICS Construction Market Survey said 2013 was the "least negative start to the year" since 2008.
All sectors of the industry in NI saw falling workloads in the first three months.
It said the outlook remained negative with many of those surveyed expecting workloads to be lower in a year.
RICS Northern Ireland construction spokesman Jim Sammon said: "Activity is still falling, and the key challenges for the sector remain.
"Finance is constrained, private sector activity remains scarce, and public sector demand remains constrained.
"Many firms are increasingly turning to markets outside of Northern Ireland for work."
For the UK as a whole, the first quarter of the year saw total workloads edge higher.
Regionally, London and the South East of England continued to see rising workloads in the first quarter.
Northern Ireland recorded the most severe falls in workloads.