Sinn Fein presses Villiers on Special Advisers Bill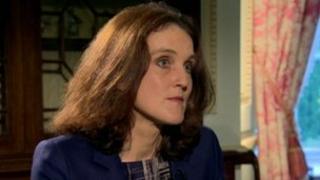 Sinn Fein has urged the Northern Ireland Secretary not to allow civil service commissioners a say in ex-prisoners getting top posts at Stormont.
Theresa Villiers is currently considering whether commissioners should become involved in an appeal process for ex-prisoners seeking posts as special advisers.
The move to block ex-prisoners sentenced to more than five years in prison from holding such posts was led by TUV leader Jim Allister.
It followed controversy over Sinn Fein's decision to appoint Mary McArdle, jailed for her role in the murder of judge's daughter Mary Travers, as special adviser to the culture minister.
Ms McArdle has since moved to another post.
Mr Allister's bill was recently amended to allow ex-prisoners a right of appeal to civil service commissioners. That made the bill a matter for the Northern Ireland Secretary.
Daithi McKay, Sinn Fein, said she should reject the move.
"We firmly believe that will politicise the role of the civil service commissioners and that is something that the British government should stay clear of and the British government should stay clear of being involved in this political piece of legislation which is about discriminating against ex-prisoners," he said.
Mr Allister said Ms Villiers should back the assembly's decision.