MLAs launch petition over Maze prison peace site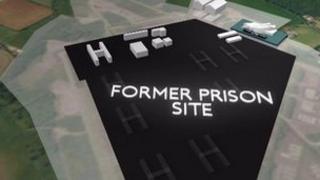 A petition calling for the Maze conflict centre to be relocated has been launched at Stormont.
The Ulster Unionists, TUV and UKIP said they also want the prison buildings to be de-listed and demolished.
They refused to say how many signatures they hoped to get opposing the plan but said they wanted to get enough to stop it going ahead.
Last week, planning permission for the controversial peace centre was granted.
It followed years of political disagreement over what should be done with the site near Lisburn, also known as Long Kesh, which housed paramilitary prisoners during the Troubles from 1971 to 2000.
Ten men died at the prison in the 1981 republican hunger strikes. Unionists were concerned it should not become a "republican shrine".
While there have been protests by some people who oppose the new centre, it is understood that planners only received a single formal objection to the application for the new building.
A statement issued by Mike Nesbitt MLA, Tom Elliott MLA, Jim Allister MLA and David McNarry MLA, on Tuesday, called on Sinn Fein and the DUP to put an immediate halt to the Maze project.
"Over the course of a number of months we met and listened to innocent victims groups right across Northern Ireland. It is clear that there is significant opposition within these groups, the RUC George Cross Association, the Prison Officers Association and other organisations to the Conflict Transformation Centre being built at the Maze and the retention of the hospital and H-Blocks. It is time for the DUP and Sinn Fein to start listening to the innocent victims of terrorism," the MLAs said.
They said the Maze site was the wrong location for a peace centre.
"The whole focus will be on the prison and what happened within its walls. The DUP and Sinn Fein should move the centre to another site so that the Maze redevelopment can go ahead unhindered by the toxic legacy of our past," they said.
"OFMDFM will not publish the business case, although they admit it could cost the taxpayer £2m in the first three years. OFMDFM will not publish their research, commissioned through Colliers, and there is no openness or transparency regarding the level of public support for this venue.
"If they won`t listen to us, then the DUP and Sinn Fein should listen to the innocent victims and other petitioners."